June 18 2011. Torrential rain and flooding in surrey. Some hail. Utterly miserable. That evening a very nervous group of trustees, all hoping the weather forecasters had got it right about next day go to bed.
June 19 2011. 6am, WWMT sportive riders from the South of England wake to a beautiful day and begin to make their way to Dorking Rugby Club. William Wates Memorial Trust trustees wonder whether Will had anything to do with this!
There were four rides for the inaugural Tour de Force Anglais, varying distances for varying ages and abilities. The ʻEpic' (100 miles) left at 8am and the ʻFun' (10 miles) left at 2.30pm. The aim was that most riders would return at about the same time for a BBQ and well-earned drink and ice cream.
It was a great day. Over 150 riders joined us aged between about 5 years old to a heroic 79 (80 in a month) on the 30 miler. Everyone played his or her part and all riders completed what they turned up to achieve.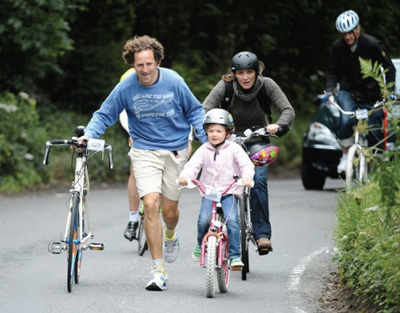 I nervously rang the last group at seven pm to see how they were doing and they were still out there trying to complete the ʻEpic'. This band of musketeers had, unsurprisingly if you knew them, left an hour late. One of their team had got severe cramps about half way round and had to stop for a while to recover (not surprising when you consider he had not ridden a bike for 17 years!) They finally got in at 7.30pm after ten and a half hours on the roads. There was a lot of bravado within this group of five with one suggesting, at the start line that they would be back in five and half hours! Only one of them lived up to their bluster. He had cycled down from London to the start… 135 mile day… nutter!
It was lovely to see so many children and families out on the road but as I drove by some of them wobbling about on the Surrey lanes I have to admit to being a little nervous! Well done to all those who completed the ten miles.
Dad and I drove the 30 mile route the day before and it certainly presented a ʻChallenge' – particularly for one rider who rang me a couple of days before saying he had signed up but would there be bikes there on the day! The only bike I had was my fixed wheel (a single speed race style bike favoured by couriers in London – where it really is flat!) and so while people were cranking down the gears as they approached the hills he was left with just having to work harder! And I hear he never got off.!
The Dorking Rugby Club very kindly supplied the venue for free. It was he perfect spot with great facilities, thank you Dermot and the team. Pendragon Sports led by Nicholas Bourne did the most brilliant job or organising the cycling aspect of the day. Many riders came up to me to say how good the signing was and impressive the food stops were so thank you to all of them as well.
But the biggest thank you of all is reserved for you, the riders. Without you this could never have happened and all of us at the William Wates Memorial Trust are always blown away by your support. We are delighted you had a happy day and look forward to welcoming you again at our next event.
What some of you had to say
Mark J – "Just a quick note to thank you and all involved for a most enjoyable day yesterday. Having been invited by participate by Andy B, I was made to feel welcome from the moment I arrived and enjoyed the well laid out Epic route, even if my legs didn't…"
Michael M – "just to say I had a great time yesterday. Very well organised, the whole event had a great family feel unlike any other Sportive I've been on."
Nick M – "Great day yesterday, lovely countryside, flawlessly executed and outrageously well catered for!"