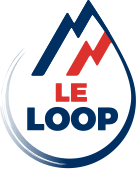 In 2004 Jonny (a brother of Will's) came up with the brilliant (but crazy) idea of the Le Loop (formerly Tour de Force). That represented the beginning of the trust raising money outside of generous donations from friends or family. Le Loop is now our primary source of funds, raising between £300,000 and £500,000 a year (gross). We have also had some wonderful support from people who have wanted to raise money for us doing their own projects and in those cases, we do whatever we can to assist. Please get in touch if this appeals!
The Le Loop cycling event, that offers the opportunity for riders to tackle anything from 2 to all 21 stages of the Tour de France each year. It is the Trust's primary fundraising event.
Le Loop begins each year at the end of June. Places go on sale in July/August the year before and the event usually sells out. If you are interested in taking on a life-changing challenge, please register your interest on the Le Loop website.
Previous Fundraising Events