£12,500 for 1 year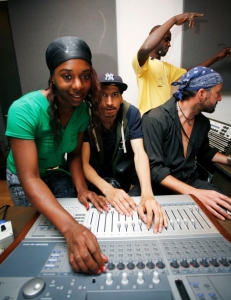 The Roundhouse is an iconic, Camden based, music and performance venue that is recognised as one of London's best places to see live music. It is housed in an architecturally unique setting that attracts major artists while offering an unusual and intimate audience experience. They have also established a reputation as the London home of contemporary circus.
What fewer people know is that the Roundhouse works with over 3,000 11-25 year-olds every year, supporting them to reach their creative potential by offering them opportunities in music, media and the performing arts – this is the founding concept on which the reinvented Roundhouse was built and the reason behind everything they do.
They believe that participation in arts activity unlocks young people's creative skills, empathy, knowledge and self-confidence, and that this will help them to live fulfilling lives and contribute in a positive way to society. By offering a range of programmes and projects across art forms and at various levels of engagement, they ensure that any 11-25 year old who wants to be involved in a creative activity can find something to capture his or her imagination at the Roundhouse.
The OnTrack project is a dedicated 6-week course which works with 15-20 vulnerable and disadvantaged young people who are classified as NEET (not in education, employment or training), aiming to challenge and stretch them to reach their full potential, and to give them a real professional experience. Participants are also encouraged to undertake Arts Award accreditation and are supported to find pathways to further engagement with education, training or employment.
OnTrack focuses on music performance and production and event management. Young people enrolled on this programme create new music, mount and promote a festival, and create radio content for broadcast on Roundhouse's own radio station. They offer expert tuition and guidance from industry professionals and experienced youth workers to support participants through this intensive experience, ensuring all involved are given the best possible chance to succeed.
The Roundhouse is very grateful to have been awarded £12,500 from the William Wates Memorial Trust to support On Track – an intensive 6-week music and events production course for young people who are not in employment, education or training (NEET). Working with expert tutors and industry professionals, participants not only learn important technical and creative skills, but also benefit from improved self-esteem and teamwork skills and are further supported to find education and employment opportunities on completing the programme.
Website: www.roundhouse.org.uk
Roundhouse – OnTrack Project – Summary Report May 2014
What is OnTrack
The overarching aim of the Roundhouse's Creative programme is to support 11-25 year olds in reaching their creative potential by offering opportunities in music, media and performing arts.
They believe that participation in arts activity unlocks young people's creative skills, empathy, knowledge and self­confidence, and that this will help them to live fulfilling lives and contribute in a positive way to society.
OnTrack received 44 applications and 27 young people attended a taster day at the Roundhouse followed by a full interview. At the end of this process, places were offered to 18 young people. Participants were NEETs (Not in Education, Employment or Training) who also faced other disadvantages such as: Being homeless, Having learning difficulties, Recovering from substance abuse, Mental health issues, Ex-Offenders, Lacking literacy and numeracy skills, Having dependants or being pregnant.
Youth Support staff had regular catch-ups with participants to check on their progress and assess how the young people themselves felt they were progressing. There was a 100% retention rate.
What they delivered
OnTrack 2014 was delivered at the Roundhouse on Weds, Thurs and Fri from 26 February – 4 April, making use of the Roundhouse's professional standard studio facilities.
The course focused on music production and performance, giving participants the opportunity to work alongside industry professionals and experienced tutors to learn creative and technical skills for producing and performing original music. Fully supported by a Youth Support Worker and a Community Participation Co-ordinator, young people worked towards to a final showcase in the Roundhouse Studio Theatre as part of CircusFest 2014, the Roundhouse's celebration of the best in contemporary circus.
The course was designed to benefit participants in a range of ways, including: The acquisition of technical and artistic skills, improved teamwork and problem-solving skills, increased self-confidence and self-esteem, improved employability within the creative and cultural industries
Baseline and exit self-assessments were conducted as part of the course enabling the identification and tracking of any additional support that might be required.
Participants identified a broad range of artistic, technical and social improvements throughout the OnTrack programme, including: Confidence and collaborating, Self-awareness, Communication skills, Listening and understanding others, Working outside your comfort zone, Networking, Technical skills, Industry knowledge and using a professional recording studio.
Measuring success
Participants were given the opportunity to undertake a Bronze Arts Award qualification as part of OnTrack. The award was explored through an hour long work-shop and then delivered over three full­day sessions by the Project Manager and Youth Support Workers. Nine participants were successful in achieving their arts award.
All participants have been provided with an Emerging Artist membership at the Roundhouse, allowing them to continue to access the studio facilities. The Roundhouse will maintain contact in the months after the course, making sure practical advice and further engagement opportunities are available. In the weeks following the conclusion of OnTrack, young people have already taken up a number of further opportunities including: Applying for an internship, Nominated for a bursary, Planning a feature on Roundhouse Radio, Radio Extra Course, Exploring a project with Lyrix Orangix, Applying for an Open Mic programme and Roundhouse Radio and Youth Advisory Board.
"I've really, really appreciated this opportunity and I think it's something that not a lot of people get. It's been amazing – I feel like Roundhouse has become like my home a little bit!" – OnTrack participant